Rom Chiaki Profile

Theremin performer.
I give live solo concerts every month especially in Tokyo in highly unusual combinations including instruments such as guitar, drums, tuba and didjeridu and Jew's harp. I use an effecter to create a wide variety of tone colors.
I play an active and wide-ranging role in spreading awareness of the theremin through appearances in events of all kinds, on TV and at demonstrations given at musical instrument festivals, as well as through contributions to magazines, etc.
The theremin I generally use is a black Big Briar Model 91a instrument and Big Briar Ethervox instrument, although my collection of instruments also includes an Ether Wave theremin and a Wavefront Classic model.

Sound
Kate Bush: Them Heavy People
2.0MB / 1min27sec / 16bit stereo / 44.1kHz (2001/11/18)

download
Schubert: Ave Maria
2.8MB / 1min27sec / 16bit stereo / 44.1kHz (2001/8/14)

download
Discography

"my room is delicious vol.1 / V.A." (released Jan 2002)

Participation on two numbers on the omnibus CD
Claude Debussy: Clair de lune
Giulio Caccini: Ave Maria
"Gloomy Sunday Tribute" (released May 2002)
Participation on the omnibus CD.
(multi-track recording using theremin)
Message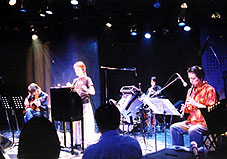 I look forward to performing in many different places. Please get in touch with me if you're interested.Thank you very much.
Contact
e-mail
Web

Copyright©2001 Rom Chiaki, All rights reserved.